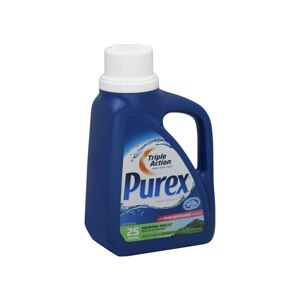 Purex Laundry Detergent with Color Safe Bleach Alternative Mountain Breeze
25 loads. Triple Action: Bright; white; clean. For all machines including HE. Try our other products! Visit www.purex.com for additional product information. Optimize for great performance in all machines, including HE. Contains no phosphate. Safe for septic systems. Quality & Responsibility: Worldwide, for more than 130 years, our brands have combined quality with respect for people and the environment. This is what Henkel stands for - today and tomorrow. Bottle made from 25% or more post-consumer recycled plastic. Made in USA.
Water, Alcohol Ethoxy Sulfate, Sodium Carbonate, Linear Alkylbenzene Sulfonate, Sodium Chloride, Alcohol Ethoxylate, Sodium Polyacrylate, Fatty Acids, Disodium Diaminostilbene Disulfonate, Tetrasodium EDTA, Methylisothiazolinone, Fragrance, Liquitint Blue.
For Best Results: Follow washing machine instructions for adding detergent. For regular loads, fill cap to level 2 (2.0 oz). Use more for heavily soiled or large loads.
Irritant. May be harmful if swallowed. Contains surfactants. Avoid contact with eyes. Do not ingest. First Aid: Flush with water for at least 15 minutes. If irritation persists, contact a physician. Ingestion: Rinse mouth; give a large full glass of water or milk. Contact a physician. Keep out of reach of children.