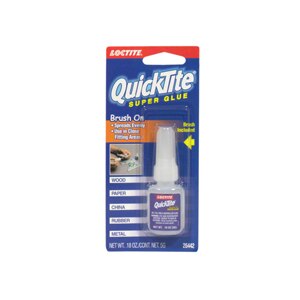 QuickTite Brush On Super Glue
Spreads evenly. Use in close fitting areas. Wood. Paper. China. Rubber. Metal. QuickTite Super Glues have proven superior performance over ordinary super glues. QuickTite works faster and holds stronger on more surfaces than ordinary instant adhesives thanks to a patented additive. Gels work best on porous and vertical surfaces and small gaps. Liquids are best for non porous surfaces and close fitting repairs. The patented applicators in 5 to 10 gram bottles or squeeze grip dispensers provide drop or bead control, safe storage and glue-free handling. Quick Tite Works on More Surfaces: Leather; Soft Leather; Vinyl; Cork; Paper; Cardboard; Wood; Synthetic Leather; Brick; Chipboard; Textiles; Metal; China; Ceramic; Rubber; Laminated Plastics. Note: Not recommended for Styrofoam, foam rubber, or polyethylene or polypropylene plastics. Bonded items should not be placed in oven, microwave or dishwasher. Made in Ireland.
For Best Results with QuickTite: 1. Protect work area from spills. 2. Clean and dry surfaces. 3. Apply adhesive sparingly. 4. Press parts together and hold for 15-30 seconds.
Contains cyanoacrylate. May cause allergic skin reactions. Skin contact through clothing may cause burns. Avoid contact with skin and eyes. In case of eye contact, flush with water for 15 minutes; call a physician. For skin contact, flush with water. For ingestion, do not induce vomiting; call a physician. If spilled on clothing, flush with large quantities of water. Keep out of reach of children.