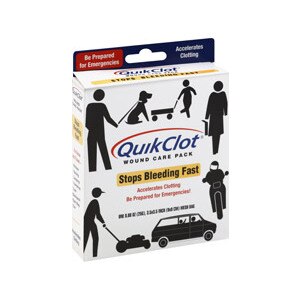 Stops bleeding fast. Accelerates clotting. Be prepared for emergencies! Accelerates clotting. One 0.88 oz (25 g), 3.5 x 3.5 inch mesh bag. A great addition to any first aid kit! QuikClot stops even severe bleeding fast! When you need to get to the hospital fast, QuickClot saves precious time. Accidents happen. Be prepared. No one can predict when an accident will occur but with QuikClot you'll be prepared to handle it. QuikClot stops even severe bleeding fast! Pick up QuikClot and grab some peace of mind! Stops bleeding fast QuikClot is a specially impregnated natural clotting dressing, formulated from the same technology used by our military. Stop even severe bleeding fast. Save precious time when time really counts. For home and travel: kitchen; hunting; camping; workshop; boat; backpack; gym bag; car.
1. Open package and remove QuikClot. 2. Place QuikClot over wound and use it to apply pressure directly over bleeding source, (more than one QuikClot may be required.) 3. Continue to apply pressure until bleeding stops. 4. Leave QuikClot in place. Wrap to secure in the wound. Do not remove until medical care is available. If wound re-bleeds, apply a new QuikClot. Seek immediate attention.
For external use only. Seek medical attention as soon as possible. Sterility not guaranteed if package is damaged or opened. Discard if package is damaged or expired. Keep out of reach of children. Avoid contact with eyes. For temporary external use to control bleeding. Accelerates clotting - stops bleeding fast. Product will feel warm in use. Contains no animal products. Do not re-use.