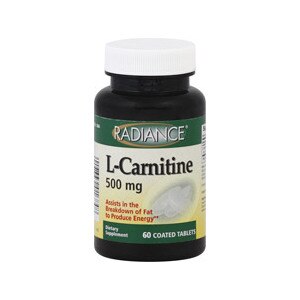 Radiance L-Carnitine Coated Tablets 500 Mg
Dietary Supplement. Assists in the breakdown of fat to produce energy. Coated for ease of swallowing. L-Carnitine assists in the breakdown of fat in cells to produce energy. L-Carnitine plays an essential role in making fatty acids available for energy in muscle tissue. (These statements have not been evaluated by the Food and Drug Administration. This product is not intended to diagnose, treat, cure or prevent any disease.)
Other Ingredients: Cellulose (Plant Origin), Food Glaze, Vegetable Stearic Acid, Silica, Croscarmellose Lactose, Cellulose Coating, Vegetable Magnesium Stearate, Titanium Dioxide Color.
For adults, take one (1) tablet twice daily, preferably with meals. As a reminder, discuss the supplements and medications you take with your health care providers.
Contains milk ingredients. If you are pregnant, nursing or taking any medications, consult your doctor before use. Discontinue use and consult your doctor if any adverse reactions occur. Keep out of reach of children. Store unopened container in a dry place and avoid excessive heat. Tamper Resistant: Do not use if seal under cap is broken or missing.