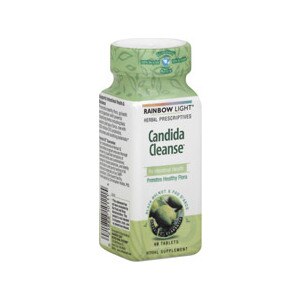 Rainbow Light Candida Cleanse Tablets
25% Off Trending Vitamins
Herbal Supplement. Black walnut & pau d'arco. For intestinal health. Promotes healthy flora. Herbal prescriptives. Herbal IQ guarantee. Eco-Guard bottle. 100% recycled. 100% recyclable. Guarantee: 100% natural - free of artificial colors, flavors, sweeteners, preservatives and other objectionable additives often found in vitamin products. Contains no sugar, lactose/dairy, wheat, gluten or yeast. Vegan Guard screened for vegans to be free of animal products. EarthFirst PLA film utilizes Ingeo. Supports intestinal health & balance. Promotes healthy flora, gut health and digestion with powerful cleansing herbs including black walnut and pau d'arco, now with 250 million CFU probiotics, enzymes and soothing botanicals. Herbal IQ guarantee. Our comprehensive Herbal IQ guarantee program ensures thorough review by qualified herbalists of selected herbs and combinations, research-based potencies, and identity verification and purity testing of all inbound materials at our GMP-compliant, USA-based facility. Formulated by Christopher Hobbs, PhD. (This statement has not been evaluated by the Food and Drug Administration. This product is not intended to diagnose, treat, cure or prevent any disease.)
Candida Cleanse Targeted Blend (Equivalent to 1,136 mg of Herbal Powder): Black Walnut [Green Hulls] 4:1 Extract, Berberine Sulfate [from Indian Barberry], Pau D'Arco [Inner Bark] Garlic Extract, Grapefruit [Seed] 24:1 Extract. Digestive Blend: 4:1 Herbal Extracts (Equivalent to 592 mg Herbal Powder): Ginger [Rhizome], Cinnamon [Bark], Gentian [Root], Fennel [Seed]. Soothing and Nourishing Complex 4:1 Herbal Extracts (Equivalent to 358 mg Herbal Powder): Bladderwrack [Herb], Stinging Nettle [Tops], Marshmallow [Root], Organic Spirulina. Other Ingredients (Natural Mineral or Vegetable Source): Microcrystalline Cellulose, Stearic Acid, Silica, Dextrin, Dextrose, Soy Lecithin, Carboxy Methyl Cellulose, Sodium Citrate.
1 tablet approximately one-half hour prior to each meal up to three times daily. Storage: Store in a cool, dark place. Do not refrigerate.
Contains soy and walnut. Keep out of reach of children. Consult a health care professional prior to use if you are pregnant, lactating, taking medication or have a medical condition.