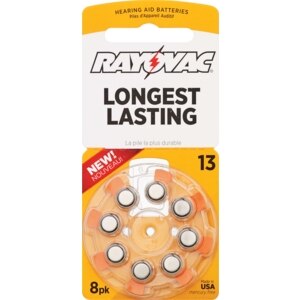 Rayovac Hearing Aid Batteries Size 13
L13ZA-8ZM. 1.45 V. The green choice. Mercury free. World's longest lasting mercury-free. Improved performance. Replaces: all size 13 zinc air batteries. Made in USA.
Do not swallow, dispose in fire, recharge or allow contact with metal objects or other batteries - may leak or rupture. Keep away from children. For treatment, call (202) 625-3333 collect.