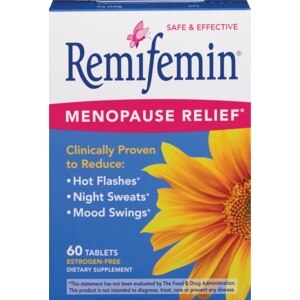 Remifemin Menopause Tablets
Dietary Supplement. 1 month supply. More effective than soy! Delivers Relief For: hot flashes; night sweats; mood swings. Enzymatic Therapy. The natural, safe alternative to hormone replacement therapy (HRT) for menopausal symptoms. With RemiSure black cohosh. Unique-Exclusive, standardized extract, subject of over 90 scientific papers. Proven to be safe and effective. Safe-Completely hormone-free, Remifemin can be used safely by women who cannot take estrogen, including those with a history of breast cancer. Safe and well tolerated, it's been used by millions of women in Europe for over 50 years. Effective-Recent clinical study shows 70% reduction in hot flashes, night sweats, mood swings, irritability, and related occasional sleeplessness. Standardized to be equivalent to 20 mg black cohosh (Cimicifuga racemosa) root and rhizome. OB/GYN recommended non-prescription menopausal therapy. Proven safe & effective. 70% symptom reduction. (This statement has not been evaluated by the Food and Drug Administration. This product is not intended to diagnose, treat, cure or prevent any disease). Product of Germany.
Other Ingredients: Lactose (Milk), Cellulose, Potato Starch, Magnesium Stearate, and Natural Peppermint Flavor.
Nutrition Facts
Serving Size: 1 tablet
Servings Per Container: 60
Variation:
| Nutrient | Amount per Serving | % Daily Value |
| --- | --- | --- |
| Black Cohosh Extract (Root and Rhizome) | 20 mg | |
Recommendations: One tablet in the morning and one tablet in the evening, with water. You can expect to notice improvements within a few weeks, with full benefits after using Remifemin twice daily for 4 -12 weeks.
This product has a tamper evident foil pouch. Do not use if foil or pouch is punctured! Consult your healthcare practitioner prior to use if you are taking prescription drugs. Do not use if pregnant or nursing. Discontinue use and consult a healthcare practitioner if you have a liver disorder or develop symptoms of liver trouble, such as abdominal pain, dark urine, or jaundice. For a few consumers, gastrointestinal discomfort or allergic reactions may occur but should not be persistent. If you observe these or other side effects, discontinue use and see your healthcare practitioner.