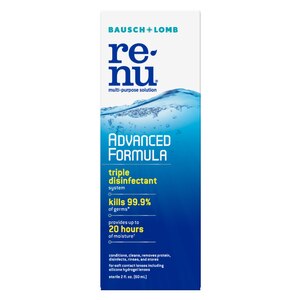 Renu Multi Purpose Solution For Soft Contact Lenses
Sterile. No rub. Cleans. Disinfects. Rinses. Removes protein daily. Stores. With Hydranate - Daily protein remover. Keeps soft contact lenses clean and comfortable. Clean, disinfect, and remove protein deposits daily without rubbing your lenses. ReNu MultiPlus Multi - Purpose Solution contains Hydranate, Poloxamine and Dymed to create a soft lens care product that keeps lenses clean and comfortable by removing protein deposits every day without the need to rub. Daily use of ReNu MultiPlus Multi-Purpose Solution eliminates the need for a separate enzymatic cleaner or daily cleaner for many lens wearers - consult your eye care professional. Our ingredients and the benefits of our ingredients: Hydranate (hydroxyalkyl - phosphonate) - Removes protein deposits that accumulate during wear. Poloxamine - Removes dirt and debris that deposit on your lens (for clearer vision) Enhances wet ability. Dymed (Polyaminopropyl Biguanide) 0.0001% - Effectively kills micro - organisms (germs) on your lens. Boric acid, Edetate Disodium, sodium borate, and sodium chloride - Balances solution for your lens wearing comfort. Because your eyes are so important. Don't experiment with just any brand. Different solutions may not be compatible and not all solutions are safe for all soft lenses. Be sure to consult your eye care professional if you have questions about lens care. All steps in one bottle. No separate enzyme cleaner required when used daily. Made in USA.
Hydranate (Hydroxyalkyl-Phosphate), Poloxamine, DYMED (Polyaminopropyl Biguanide), Boric Acid, Edetate Disodium, Sodium Borate, and Sodium Chloride.
To clean, disinfect and remove protein daily, complete these simple steps: Step 1 - Thoroughly rinse each side of the lens (5 seconds) with ReNu MultiPlus Multi-Purpose Solution. Step 2 - Place cleaned contact lens in the lens case and fill with fresh ReNu MuliPlus Multi-Purpose Solution. Soak at least four (4) hours. Always follow your eye care professional's instructions. Based upon your individual tear chemistry and lens - wearing schedule, your eye care professional may recommend additional products or procedures such as placing 3 drops of this solution on each lens surface and rubbing for 20 seconds before step 1. Storage: You may store your lenses in the unopened lens case until ready to wear, up to a maximum of 30 days.
See inside of carton for complete instructions and important safety information. Not for use with heat disinfection. If you are allergic to an ingredient in this product, do not use. Precautions: Never re-use this solution. Keep the bottle tightly closed when not in use. Store solution at room temperature. Use before expiration date marked on the carton and bottle. Keep out of reach of children. Do not use if imprinted neckband on bottle is broken or missing.