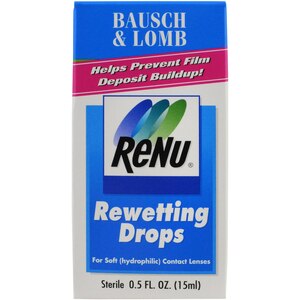 For soft (hydrophilic) contact lenses. Helps prevent film deposit buildup! Recommended for daily wear, extended wear, frequent replacement and disposable soft contact lenses. Soothes eyes. Moistens lenses to minimize dryness. Made in USA.
A Sterile Buffered, Isotonic, Aqueous Solution that Contains Boric Acid, Sodium Borate, Sodium Chloride and Poloxamine; Preserved with Sorbic Acid (0.15%) and Edetate Disodium (0.1%).
During wear, put two or three drops on contacts whenever needed. Blink several times. If the lens still does not feel comfortable, add another drop. If discomfort persists, immediately remove lens and contact your eye care practitioner. See insert for full information on indications (uses) and actions. Store solution at room temperature.
Keep the bottle tightly closed when not in use. See package insert for important safety information. If you are allergic to any ingredient in this product, do not use. Do not use if Bausch & Lomb neckband on bottle is broken or missing.