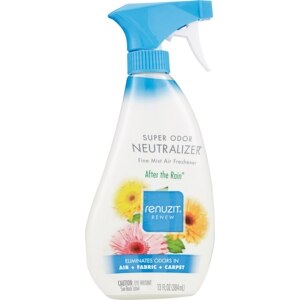 Renuzit Super Odor Neutralizer, Eliminates Odors In Air + Fabric + Carpet
Super odor neutralizer. eliminates odors in air + fabric + carpet. Whole room freshness. Fresh, clean, long-lasting fragrance. Eliminates the toughest odors. Bathroom, tobacco smoke, pet odors. Also: mold mildew, kitchen/garbage odors. 3 in 1 benefit: eliminates odors in air+ fabric + carpet; safe on most fabrics & carpets when used as directed. Made in USA.
1. Rotate nozzle to On position. 2. Pull trigger at least 3 times to start product flow. 3. In Air-Spray 2-3 times for an average size room. 4. On Fabric and Carpet-Mist lightly. For those fabrics and carpets which may waterspot test in an inconspicuous area. Not recommended for use on silk or leather.
Contains ethanol. Eye irritant. If eye contact occurs, flush with water for 15 minutes. If irritation persists, seek medical attention. Use with care around birds and other sensitive household pets. Do not spray directly on pets. To avoid slip hazard, do not spray repeatedly over tile, vinyl or other bare flooring. Keep out of reach of children and pets.