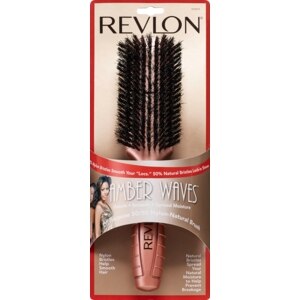 Revlon Amber Waves All-Purpose 50/50 Nylon-Natural Brush Rv2879
50% Nylon bristles smooth your locs. 50% Natural bristles lock-in sheen. Groom; Smoother; Spread moisture. Nylon bristles help smooth hair. Natural bristles spread your natural moisture to help prevent breakage. The Revlon Amber Waves 50-50 All-Purpose Brush is a great way to smooth, shine and groom your hair. Intermixed with all-natural bristle, this all-purpose brush smoothes, helps add sheen and luster, and stimulates your scalp for a health-looking, beautiful style each time you use it. Nylon bristles are great for medium to coarse hair. Soft, all-natural bristles are great for all hair textures and help to retain and spread moisture, which prevents breakage and enhances growth. Made in China.
Product Type:

Brush
Use daily. Clean as needed. To clean, hold brush under lukewarm water. Towel-blot to dry.