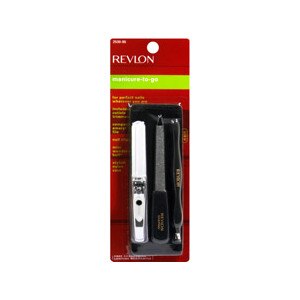 Revlon Manicure To Go Set
Nail. For perfect nails wherever you are. Includes: Cuticle Trimmer; Compact Emeryl File; Nail Clip; Mini Wonder Buff; Stylish Nylon Case. Dual-ended Cuticle Trimmer pushes back cuticles and keeps them neat. Nail Clip with curved blades safely trims nails. Lever-action works easily with either hand. Shape and smooth nails quickly with Compact Emeryl File. Softly pointed tip gently cleans under nails. Buffer creates a high-gloss shine. Gentle enough to use everyday. Premium Nylon Case protects tools, makes it easy to bring them everywhere. Revlon's full line of superior tools puts beauty at your fingertips. Precision crafted, fully inspected. Revlon Beauty Tools meet exacting design and quality specifications to assure exceptional performance. Over 45 years of superior quality. Free Sharpening/Lifetime Guarantee. Made in China.
Expert Tips: To Trim Cuticles - Push cuticles back with Cuticle Trimmer's contoured end. Then glide metal end, with V-tip facing up, along cuticle edge for a clean finish. To Trim Nails - Using Nail Clip, trim from each side of the nail toward the center. Do not cut below the natural nail line as this may cause discomfort. To Shape Nails - Start with Compact Emeryl File's shaping side to shape nails. Use finishing side to smooth nail edge. To help prevent splitting, file in one direction only. To Buff Nails - Remove all nail enamel before buffing. With the grey surface, buff vigorously across the nail until stains and ridges are removed. Continue buffing with lavender surface to prepare nails for the final stage. Using the dark grey side, finish to a brilliant shine.