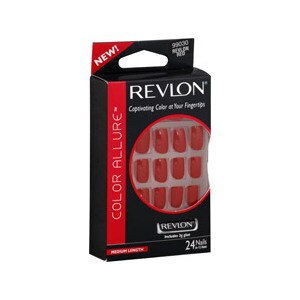 Revlon Maximum Wear Glue-On Nails
24 nails in 12 sizes. Captivating color at your fingertips. Includes 3 g glue. Contents: 24 nails; Bond Enhancer buffer; Maxi-Bond glue [0.10 oz (3 g)]; manicure stick. Packaged in Mexico; nails - China, glue - Japan/India/Thailand, buffer - China, stick - China.
Nails: Plastic. Glue: Ethyl 2-Cyanoacrylate, Polymethyl Methacrylate.
Preparation: Lightly buff natural nails and clean to remove any polish or oils. Locate the number on the underside of each nail and select a size that closely matches your natural nail. 3 Easy Steps: 1. To ensure proper application, make sure the number on the underside of each nail is located at the tip of your nail, otherwise placement will be upside down and not durable. 2. Apply an even layer of glue over entire natural nail and back of artificial nail. Use enough glue to cover entire area and to prevent air bubbles from forming. 3. Press nail firmly for 5 seconds. Use manicure stick to wipe off excess glue. To Remove: Soak in acetone polish remover until artificial nails dissolve. Do not break or peel off nails. To maintain healthy strong nails, glue-on nails should be removed every 7-10 days and a new set applied.
Irritant. Cyanoacrylate. Bonds skin and eyes in seconds. Irritating to eyes, respiratory system and skin. Keep out of reach op children. Avoid contact with clothing as can cause burn. Do not use if nail is inflamed or infected. For accidental eye or skin contact, flush with water for 15 minutes. Seek medical attention for eye or internal contact.