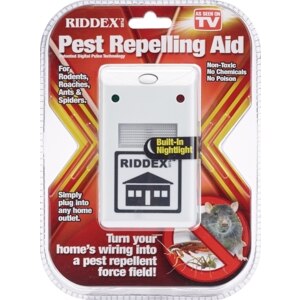 Riddex Plus Pest Repelling Aid
For rodents, roaches, ants & spiders. Patented digital pulse technology. Non-toxic. No chemicals. No poison. Built-in nightlight. Simply plug into any home outlet. Turn your home's wiring into a pest repellent force field! Not a toxic chemical or poison. Easy plug and play. Simply plug into any home outlet. This device complies with part 15 of the FCC rules. Operation is subject to the following 2 conditions: (1) This device may not cause harmful interference, and (2) this device must accept any interference received, including interference that may cause undesired operation. For household/residential use only. 110V outlet only. UL listed. Made in China.
Not recommended for use around rodent type pets.