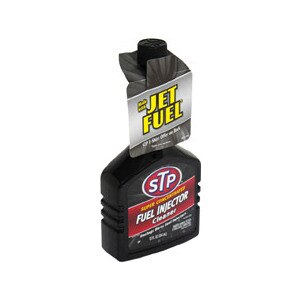 STP Super Concentrate Fuel Injector Cleaner
Unclogs dirty fuel injectors. Made with jet fuel (carries active ingredients). Add to gas every oil change. Treats up to 21 gallons. Contains concentrated detergents that help dissolve and remove harmful carbon, gum and varnish deposits on fuel injectors. Without cleaning, deposits can lead to hard starts, lost acceleration and rough idling. This product is made with Jet Fuel, a high quality carrier of active ingredients. This product is safe for all gasoline engines. One Treatment Helps Unclog Dirty Fuel Injectors to: Restore lost power & acceleration; Improve engine performance; Smooth rough idle and eliminate tough starts. Made in USA.
Pour entire contents into full gas tank. Firmly replace cap on empty bottle and discard in trash or recycle. For tanks up to 21 gallons. May be used in combination with other STP fuel additives.
Harmful or fatal is swallowed. Combustible. May cause skin and eye irritation. Contains petrolatum distillates. Do not swallow. Do not breathe vapors. Use in well-ventilated areas away from heat sources, sparks, or flames. Avoid eye contact and prolonged skin contact. First Aid: If Swallowed: Do not induce vomiting. Immediately call a physician or Poison Control Center. If Vapors Bother You: Move to fresh air. Skin: Wash with soap and water. Eyes: Flush with water for 15 minutes. Contact a physician if irritation persists. Keep out of reach of children.