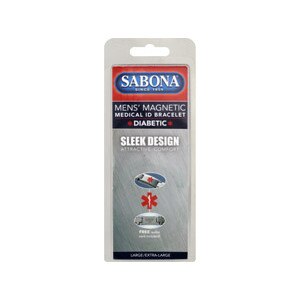 Sabona Magnetic Medical ID Bracelet Mens L/XL
Sleek design. Attractive comfort. Free wallet card included. Sabona, established in 1959, has a long history as the premier manufacturer and marketer of copper and magnetic bracelets worldwide! Millions of customers have chosen Sabona because they know Sabona is a name that people trust and believe in. Sabona products are available in a wide variety of styles, all manufactured with quality you can trust, guaranteed by Sabona. Made in China.
Magnetic products are considered to be unproven remedies. Magnetic products should not be worn next to a watch. Do not use magnetic products during pregnancy, or if you have an electrical implant such as a pacemaker. Consult with your doctor if you have any questions and continue with regular medical care.