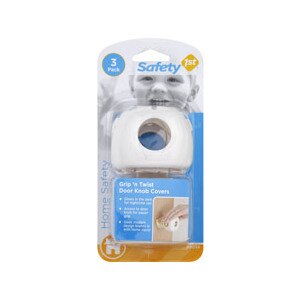 Safety 1st Grip 'n Twist Door Knob Covers
Glows in the dark for nighttime use. Access to door knob for easier grip. Sleek modern design blends in with home decor. Made in China.
1. Separate halves by disengaging snaps. 2. Reassemble halves around door knob making sure all 4 snaps are securely fastened. 3. To open door, grip door knob through holes in door knob cover and turn knob. To Clean: Wipe with damp cloth and dry. Note: Door knob cover should spin freely on door knob after assembly.
This product is only a deterrent. It is not a substitute for proper adult supervision. Discontinue use when child becomes old enough to defeat it.