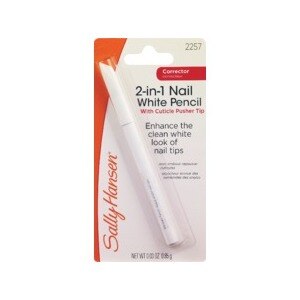 Sally Hansen 2-In-1 Nail White Pencil
Manicure aids. With cuticle pusher tip. Enhances natural white nail tips. Water-Activated formula. Cuticle groomer tip. Salon tested. Dermatologist tested. Want well-groomed natural nails? Sally Hansen 2-In-1 Nail White Pencil is the easy way to achieve a perfectly beautiful, natural manicure. 2-In-1 Nail White Pencil enhances the natural white tips of your nails, giving them a clean, well-cared for look, with or without nail color. The exclusive water-activated formula glides on smoothly. The built-in cuticle pusher tip eases back cuticles for a neatly finished, natural nail look. Made in Czech Republic.
Titanium Dioxide, Kaolin, Ceteareth-25, Calcium Stearate, Cellulose Gum, Methylparaben, Propylparaben, Sorbic Acid.
Moisten pencil tip. Apply under nail tips. Use cuticle pusher tip to gently ease back cuticles.