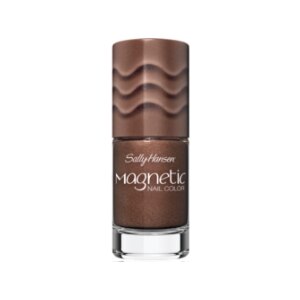 Sally Hansen Magnetic Nail Color, Golden Conduct
3-D Nail Art in Seconds! Revolutionary formula infused with metallic particles that move when exposed to the specially designed magnet to create an extraordinary effect. Create a gorgeous 3D nail art effect in just seconds! This unique formula has been specially developed with metallic particles to create a pattern on the nail using magnetic forces.
STEP 1:Apply 1 coat of base coat. Shake Magnetic Nail Color to activate. Remove overcap with magnet and set aside. Apply 1 coat of Magnetic Nail Color to all 10 nails and let dry. STEP 2:Apply a thick second coat of color to 1 nail and immediately hold the built-in magnet over the nail. Rest the guide just below the cuticle without touching the wet nail polish. Hold for 10 seconds. Repeat for all 10 nails and let dry. Finish with top coat.