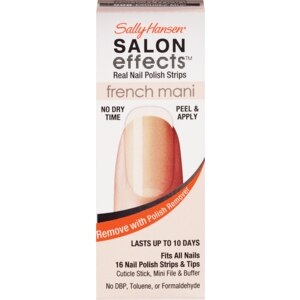 Sally Hansen Salon Effects Real Nail Polish French Manicure Strips, Excusez Moi!
Salon Effects French Mani. Fast, Flawless, French Manicure. Salon Perfect French Tip.No Dry Time. Lasts up to 10 Days.
Product Type:

Strips

Quantity:

31-40 CT
DBP, Toluene and Formaldehyde free
1. Start with clean, dry nails. 2. Select best-fitting French Tip for each nail. 3. Remove clear plastic cover, then peel French tip from backing paper. 5.Position tip.
Open, unused strips should be discarded. Because Salon Effects are made from real nail polish, be sure to use all strips immediately upon opening otherwise they will dry out.