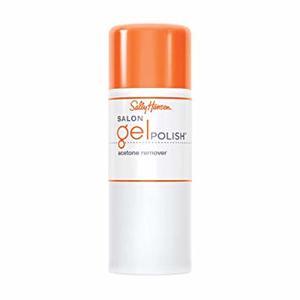 Sally Hansen Salon Gel Polish Pro-Gel Acetone Remover
Salon Gel Polish professional gel manicure system. up to 10 gel manicures per kit. great value vs. the salon. Up to 2 week wear. No chips. No dry time.
Formulation:

Liquid
Gel top coat, gel polish strips. DBP, Toluene and Formaldehyde free.
Salon results in 3 easy steps. 1) base coat - cure for 30 seconds. 2) color - cure for 30 seconds (then repeat with 2nd coat). 3) top coat - cure for 30 seconds & wipe with nail cleanser pad done!
Do not apply to damaged or infected nails. Avoid eye and skin contact. In case of contact, rinse with water; if irritation occurs, consult a physician. If swallowed, seek medical attnetion. Use with adequate ventilation. Keep out of reach of children.