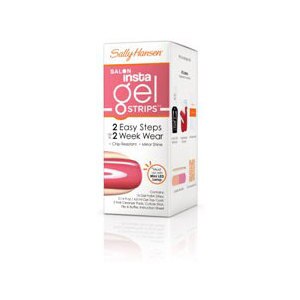 Sally Hansen Salon Insta-Gel Strips, Rosy Outlook
All-in-One Gel Applique Kit. Fast and easy 2 step gel manicure. Up to 2 weeks of mirror-shine. Chip-resistant color. No dry time. 2 Easy Steps. 1.)Apply color. 2) Apply top coat. Cure under Mini LED lamp. Gel Nails. Salon Results at home.
Gel top coat, gel polish strips. DBP, Toluene and Formaldehyde free.
1) Color - cleanse nails & apply gel polish strips. 2) Top Coat - apply gel top coat. 3) Cure under Mini LED Lamp & finish with nail cleansing pad. Done!
Do not apply to damaged or infected nails. Avoid eye and skin contact. In case of contact, rinse with water; if irritation occurs, consult a physician. If swallowed, seek medical attnetion. Use with adequate ventilation. Keep out of reach of children