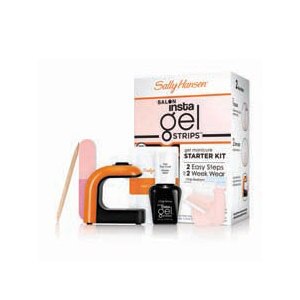 Sally Hansen Salon Insta-Gel Strips Starter Kit, Shell We Dance?
Sally Hansen Salon Insta-Gel Strips
2 Easy Steps
Up to 2 Week Wear
Chip Resistant
Mirror Shine
Strips Fit All Nails
No dry time & removes easily with acetone remover
Will not damage nails
Kit contains all you need
Gel top coat, gel polish strips DBP, Toluene and Formaldehyde free
1) Color - cleanse nails & apply gel polish strips 2) Top Coat - apply gel top coat 3) Cure under Mini LED Lamp & finish with nail cleansing pad. Done!
Do not apply to damaged or infected nails. Avoid eye and skin contact. In case of contact, rinse with water; if irritation occurs, consult a physician. If swallowed, seek medical attnetion. Use with adequate ventilation. Keep out of reach of children.