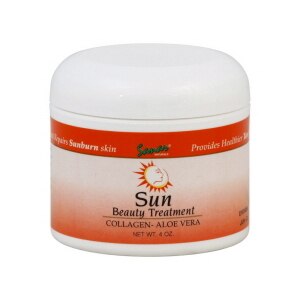 Sanar Naturals Sun Beauty Treatment
Collagen - aloe vera. Soothes and repairs sunburn skin. Provides healthier tan for a better look. Collagen helps restart the auto-repair powers of damaged cells and rehydrates the skin, while the Aloe Vera, rejuvenates, heals and soothes the skin. The combination of these two ingredients provide maximum natural skin care for dry and sun damage skin. Made in USA.
Purified Water, Acrylamide Sodium, Acrylate Copolymer, Paraffinum Liquidium, Trideceth-6, Mineral Oil, Aloe Vera, Isothiazolinone, Fragrance, Collagen and Placenta.
Use after exposure to sun.
Keep out of the reach of children.