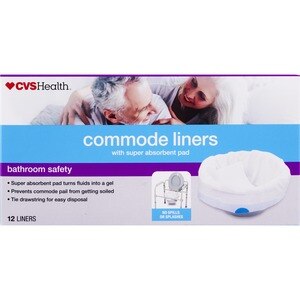 CVS Commode Liner with Super Absorbent Pad
The CVS Commode Liner with Super- Absorbent Pad

Voted 2013 Best New Product by the CareGiver Magazine

Never Clean a Pail Again!

The CVS commode pail liner is a medical grade bag containing a super absorbent pad that quickly transitions body fluids (up to 16oz) into a gel within seconds. It fits over most commode pails.
The CVS commode liner with super-absorbent pad:PREVENTS:
Commode pail from getting soiled
ELIMINATES:
Hand-cleaning
Unpleasant odors
Spills & splashes
Contamination
PROVIDES:
Convenience & safety for patient, caregiver and family members
Instructions for use
1. Open pack and unroll the first liner by tearing along the perforated line.
2. Position the liner over the commode pail.
3. After patient uses commode pail, bodily fluids turn to gel within seconds.
4. To close: Pull ties tightly and knot the ties. Dispose of in household waste just like for diapers. DO NOT FLUSH.