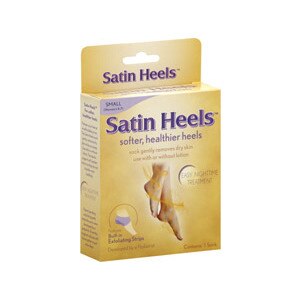 Satin Heels Exfoliating Sock Small (Women's 4-7)
Contains: 1 sock. Softer, healthier heels. Sock gently removes dry skin. Use with or without lotion. Easy nighttime treatment. Features built-in exfoliating strips. Satin Heels offers an easy, effective way to treat dry skin on your heels! Patent-pending exfoliating pads, inside the sock, gently remove dry skin and calluses from your heels during sleep. Simply slip Satin Heels on before bed and in just a few days look forward to healthier, smoother skin. Can be used with or without moisturizing cream - elastic support ensures lotions don't transfer onto bedding. Facilitates exfoliation of calluses and dry skin during normal sleeping motion. Can be worn in footwear for additional daytime exfoliation. Pampers your feet at an affordable price - pedicure results without the price tag. Satin Heels for softer healthier feet. Pamper your feet at an affordable price. The Satin Heels sock gently removes dry skin while you sleep. The elastic support will contain lotions so they do not transfer onto bedding. Patent-pending exfoliating pads inside the sock were developed by a podiatrist. Even the roughest calluses will be smoother in just a few days. ISO 9001 Certified system. CE listed. Made in the USA.
Consult your doctor before using if you have diabetes, compromised circulation, neuropathy of the lower leg or other existing skin condition that could be aggravated.