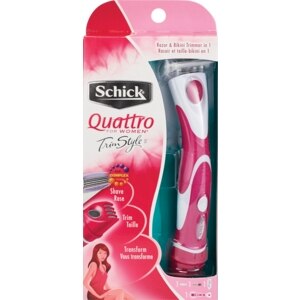 Schick Quattro Razor & Bikini Trimmer
Trim style. Shave. Trim. Transform. Razor & bikini trimmer in 1. Shave: 4 ultra-thin blades, aloe & duo-vitamin complex for long-lasting smoothness so you could skip a day or two. Trim: Water proof trimmer for a neat, clean look & feel for your bikini area. Transform: Discover the confidence that comes with all-over smoothness and a neat bikini area. For easy, even trimming & long-lasting smooth skin, in just one razor. Use with any Quattro for Women refill. Shower safe.
For Shaving: Use razor as you normally would. No need to use on/off button for shaving. For Trimming: Select desired hair length by adjusting comb position, or remove the comb entirely for an even closer trim. Simply guide the trimmer over the area to be trimmed until you achieve your desired look/length. See inside carton for additional instructions. Twist razor to open. Insert battery as indicated on the battery compartment. Twist tightly to close. To Clean: Rinse with water after every use.