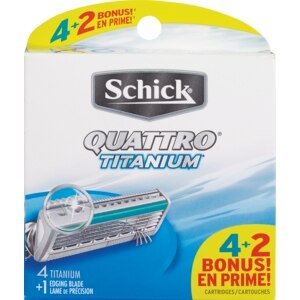 Schick Quattro Titanium Cartridges
4 titanium (coated blades) + 1 edging blade. Free your skin. Lubrication strip with aloe, vitamins E & B-5. Comfort. 4 titanium coated blades + 1 edging blade. All Quattro Razors fit all Quattro Cartridges. Schick Quattro blade cartridge made in Germany.
Rinse cartridge from the top.