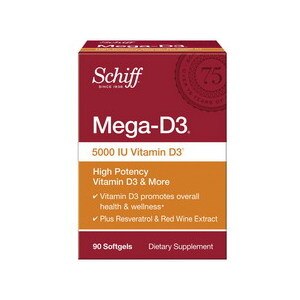 Schiff Mega-D3 Superior Strength Vitamin D3 5000 IU
Dietary Supplement. Superior strength vitamin D3 5000 IU (400 IU vitamin D is 100% of the recommended daily value. However, many health benefits have been found at doses greater than 400 IU) with resveratrol and red wine complex. Supports key areas of health that often decline with age: breast & colon health; bones, joints & muscles; cardiovascular health; immune health. Just 1 softgel per day. Mega-D3 is a new supplement that contains vitamin D3, resveratrol and red wine complex, three key nutrients that support areas of health that often decline with age. All ingredients are provided in just one small, easy-to-swallow softgel. Extensive research has found that high amounts of vitamin D help maintain cognitive function, improve bone & muscle strength, promote cardiovascular health, support breast and colon health and boost immunity as you age. Vitamin D3 is the natural form of vitamin D and is more powerful than vitamin D2. Recent science has uncovered many of the anti-aging benefits of red wine and resveratrol. Mega-D3 provides concentrated red wine complex and resveratrol to support vitality as you age by boosting immune health and promoting cardiovascular health. Supports Breast and Colon Health: Vitamin D3. Health Benefits: Supports Vitality as You Age: Resveratrol, red wine complex. Supports Memory & Concentration: Vitamin D3. Strengthens Bones, Joints & Muscles: Vitamin D3. Promotes Cardiovascular Health: Vitamin D3, resveratrol, red wine complex. Boosts Immune Health: Vitamin D3, resveratrol, red wine complex. No added sugar (sucrose, fructose, lactose), salt (sodium chloride), yeast, wheat, gluten or milk. No preservatives or artificial flavors. (These statements have not been evaluated by the Food and Drug Administration. This product is not intended to diagnose, treat, cure or prevent any disease.)
Proprietary Blend: Red Wine Complex, Grape Extract (Vitis Vinifera) (Fruit) and Maltodextrin, Resveratrol (Polygonum Cuspidatum) (Root). Other Ingredients: Soybean Oil, Gelatin, Glycerin, Water, Riboflavin and Titanium Dioxide.
For best results, take one (1) softgel per day. Store in a cool, dry place with lid tightly closed.
Keep out of reach of children. If you are pregnant, lactating or on prescribed medication, consult your physician before using.