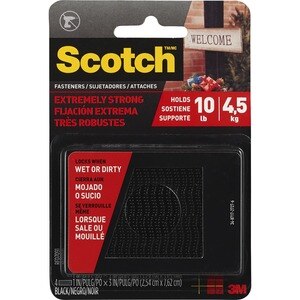 Scotch All-Weather Heavy-Duty Fasteners Black
2 sets of strips 1 x 3 inches each. Heavy decor. office displays. Electronics and more! Each inch of product holds up to 2 lbs. Do not hang objects over 8 lbs. Audible snap indicated closure. Great for moving or vibrating surfaces. For indoor and outdoor use. Great ideas that stick. Made in the USA.
Clean mounting surface. Remove liner on one side and apply fastener to item. Remove liner on second side. Press item against mounting surface. Press each piece firmly together. Audible snap indicates closure. Fasteners can be used on most painted, varnished or otherwise sealed surfaces: brick, wood, metal or concrete. Fasteners can also be used on bar metal, glass and many plastics. Not recommended for drywall. Notice: Continued exposure to sunlight can damage fastener.