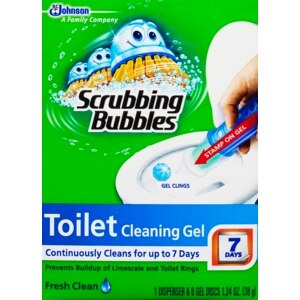 Scrubbing Bubbles Toilet Cleaning Gel, Fresh Clean
Dispenser & 6 gel discs 1.34 oz (38 g). Freshens & cleans with each flush. Each disc cleans up to 7 days. Stamp on. Gel clings. No messy clip-on. Dissolves to freshen and clean with every flush! Just stamp on - gel adheres to toilet bowl for 1 week. Discreet gel discs sit under the rim. Gel dissolves with each flush to clean entire bowl. Continuously cleans and freshens. One package lasts up to 6 weeks. Disposable dispenser included. Safe for septic systems. Made in Mexico.
Ensure the toilet is clean. 1. Align large button on gel disc holder with holes on dispenser. Insert until the button snaps into the first hole. Remove cap. 2. Position clear end of the gel disc holder against the inside surface of the bowl, close to the rim. 3. Press and hold button while pushing towards the bowl until the button clicks into the next hole. Pull dispenser straight back leaving a gel disc. 4. Replace cap tightly and store for next use. Flush toilet to activate gel disc. Retain outer sleeve for full use and safety instructions.
Causes eye and skin irritation. Avoid contact with eyes, skin and clothing. Wash thoroughly after handling. First Aid: Eyes and Skin: Immediately flush eyes and skin with plenty of water. If irritation persists, get medical attention. If swallowed: Drink 1-2 glasses of water. Do not induce vomiting. Immediately call a Poison Control Center or physician. Keep out of reach of children and pets.