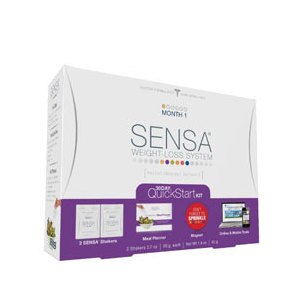 Sensa Weight-Loss System Quick Start Kit
The SENSA® Month 1 QuickStart Kit provides you with all the tools you need for successful weight loss. Doctor formulated SENSA® helps enhance the smell and taste of your food so you eat less without feeling deprived. Kit includes 2 SENSA® Shakers, Meal Planner, Sprinkle Alert Magnet, How-To DVD and Usage Guide, plus free online support tools.

SENSA® advocates a healthy lifestyle with regular exercise and portion control.
Helps you lose weight without feeling deprived*
Feel full faster when eating meals
Studies show average weight loss of 30.5 lbs in 6 months
Doctor Formulated, Effective Results
Based on 25 years of research
Contains 100% Generally Recognized as Safe (GRAS) ingredients as listed by the FDA
Sodium-Free, Sugar-Free, Calorie-Free
NO calorie counting NO pre-packaged meals NO guilt
*SENSA® advocates a healthy lifestyle with regular exercise and portion control.
The SENSA® active ingredients consist of patented flavor combinations that change every month and help enhance the taste of food to trigger the I feel full feeling. Other ingredients found in the formula include:
Maltodextrin: Made from natural corn starch, it's found in canned fruits and salad dressings.
Tricalcium phosphate: A calcium supplement found in dairy products and jams.
Silica: A natural compound found in leafy green vegetables and whole grains.
SENSA® contains only 100% GRAS (Generally Recognized As Safe) ingredients as published by the FDA.
Each month contains two shakers - one to keep at home and one to take with you. Shake the Tastants labeled "Salty" on salty or savory foods and "Sweet" on sweet foods. Combined, these two shakers should last the entire month. After 30 days, move on to the next month even if you have Tastants left over from the previous month.