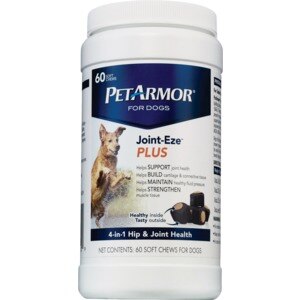 PetArmor Joint-Eze Plus Chewable Tablets, 60CT
For dogs of all ages. Glucosamine HCl: Shown to support joint health. Chondroitin Sulfate: An important structural component of cartilage. Poultry Cartilage: Naturally contains glycosaminoglycans (GAGs). MSM: Helps maintain healthy fluid pressure of soft tissue. Dogs love the taste. For canine use only. Vetscription Joint-Eze Plus contains a patented blend that includes the building blocks of cartilage which naturally contains the family of glycosaminoglycans, (GAG's). These GAG's naturally contain chondroitin and glucosamine. These ingredients are naturally present in cartilage and help cartilage and related connective tissue perform proper function and supports joint health. Additionally glucosamine HCl and MSM are added to synergistically improve the full benefits of the blend. This blend supports normal joint health and features MSM. MSM is known to reduce and maintain healthy fluid pressure of soft tissue. Dogs of all ages love Joint-Eze Plus. Tasty chewables are shown to promote and maintain joint health. Joint-Eze Plus should be used by all dogs even those who are healthy. From puppies to senior dogs, for all breeds large and small. Made in USA.
Active Ingredients Per Chewable (6.25 g): Poultry Cartilage Powder (930 mg), Glucosamine HCl (Shellfish) (250 mg), MSM (200 mg), Chondroitin Sulfate (Porcine) (31 mg). Inactive Ingredients: Acidified Calcium Sulfate, Caramel Powder, Chicken Cartilage, Chicken Digest, Chicken Meal, Corn Syrup, Durum Wheat Flour, Gelatin, Glycerin, Molasses, Monoglycerides, Natural Smoke Flavor, Partially Hydrogenated Soybean Oil, Potassium Sorbate, Poultry Fat, Pregelatinized Wheat Flour, Propylene Glycol, Rice Flour, Salt, Titanium Dioxide, Tocopherol, Wheat Flour.
Dogs 10-29 lbs: 1 chew for maintenance and 2 chews loading (first three weeks). Dogs 30-59 lbs: 2 chews for maintenance and 3 chews loading (first three weeks). Dogs 60-89 lbs: 2 chews for maintenance and 4 chews loading (first three weeks). Dogs over 90 lbs: 3 chews for maintenance and 6 chews loading (first three weeks).
For animal use only. Keep out of reach of children and other animals. In case of an accidental overdose; contact a health professional immediately. Safe use in pregnant animals or animals Intended for breeding has not been proven. Consult with your veterinarian before using this product in animals: with clotting disorders; being treated with anticoagulant medications; diabetes, or any metabolic disorders causing hypoglycemia; history of urinary tract stones; known allergies to shellfish. If lameness worsens, discontinue use and contact your veterinarian. Administer during or after the animal has eaten to reduce incidence of the gastrointestinal upset.