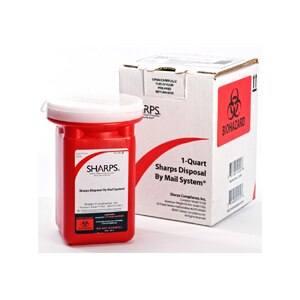 Sharps 1 Quart Disposal By Mail System
You May Also Like
Size: 50 TB

$5.99
Sharps Disposal By Mail System®
The Sharps Disposal By Mail System® represents the first complete disposal system pioneered for simplified management of used needles, syringes and other small quantity medical waste.
The Sharps Disposal By Mail System® is a government approved system comprised of a custom designed mailable sharps container, a postage prepaid return-by- mail shipping box, and instructions for use in English and Spanish.
When the drug therapy is concluded, or when the sharps container is full, the patient, or generator of the medical waste returns the sharps container to its original packaging. The shipping box and the enclosed sharps container are then returned to Sharps treatment facility for destruction.
Upon receipt, Sharps Compliance documents the return, weight, and destruction of each sharps container. Certification is then available on SharpsTracerTM, Sharps internet-based tracking program.
Sharps® Advantages
Proven, convenient, and easy to use
Reduces the carbon footprint - no added fuel charges
Online tracking and proof of destruction available via SharpsTracerTM
Compliant with applicable regulations
No contract required
How to dispose of used needles and lancets.
Proper disposal of used needles and lancets is very important. Hasty disposal can result in injury or worse. An easy way to dispose of used needles and lancets is to put them in a Sharps Disposal By Mail system that provides all of the components needed to ensure a safe disposal process. Some states have made it illegal to dispose of your used sharps into your household waste so this system makes it safe and compliant with state regulations. Your local waste disposal rules can be referenced and, as always, if you have any questions or need further assistance, please contact us at (888) 607-4287, or email customercare@cvs.com.