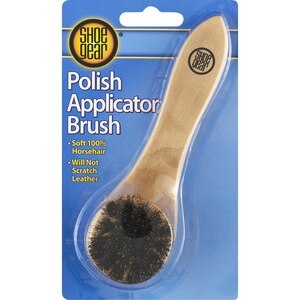 Shoe Gear Polish Applicator Brush
Professional quality. New and improved. Soft 100% horsehair brush; will not scratch leather and has a hardwood handle.
For the best results: 1. Start with clean, dry shoes. 2. Apply polish with Shoe Gear polish application brush. Work into the leather, and let dry for a few minutes. 3. Shine with Shoe Gear shoe brush. 4. Buff with Shoe Gear shine cloth.