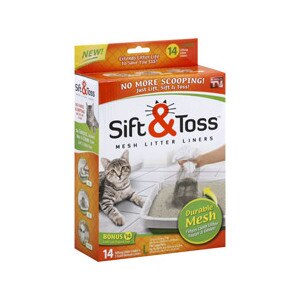 Sift & Toss Mesh Litter Liners Large
17x13x7 inches. Extends litter life to save you $$$! No more scooping! Just lift, sift & toss! As seen on TV. Bonus: 14 scent-lock disposable bags. Durable mesh filters clean litter faster & easier! Sifting litter liners + 2 solid bottom liners. The fastest, easiest way to clean your cat's litter box! Sift & Toss litter liners feature a durable, mesh bottom that traps dirty litter while clean litter sifts through, extending the life of your litter and making cleaning quick and easy! Simply lift, sift and toss the dirty litter in seconds - you'll never have to scoop again! Includes: 2 solid bottom liners; 14 sifting litter liners; plus 14 scent-lock disposal bags. Fits Large Pans Up to: 18.75x15.5x5.2 inches. For best results, use with clumping clay litter. Made in China.
For best results, use with clumping clay litter.
Not suitable for children. A parasite found in cat feces may cause toxoplasmosis in pregnant women, children and people with suppressed immune systems. For more information, consult your physician. Wash hands thoroughly. Do not flush litter. This liner is not a toy. To avoid danger of suffocation, knot soiled liner and dispose of immediately. Do not use in cribs, beds, carriages or play pens. Keep out of reach of children.