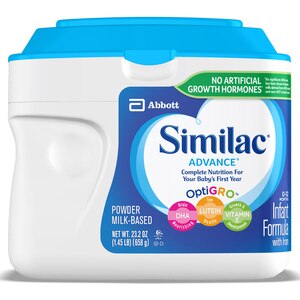 Similac Advance EarlyShield Powder with Iron
Compare & Save
with CVS/pharmacy Brands
Size: 23.2 OZ

$16.29
Birth to 12 months. Add water. EarlyShield for immune support. Scoop stored in lid for easy access. The only DHA/ARA formula that has the EarlyShield blend. Designed to be more like breast milk. Use Similac Advance EarlyShield to give your baby a strong start in life - Designed to help support your baby's natural immune system; DHA and ARA, important for brain and eye development; Calcium for your baby's growing bones. Breast milk is recommended. If you choose to use infant formula, the makers of Similac have a formula that's right for your baby. Similac Advance EarlyShield may soften stools more like the breast-fed infant.
Nonfat Milk, Lactose, High Oleic Safflower Oil, Soy Oil, Coconut Oil, Galactooligosaccharides (Sourced from Milk [GOS]), Whey Protein Concentrate, Less than 2% of: C. Cohnii Oil (Source of Docosahexaenoic Acid [DHA]), M. Alpina Oil (Source of Arachidonic Acid [ARA]), Beta-Carotene, Lutein, Lycopene, Potassium Citrate, Calcium Carbonate, Ascorbic Acid, Soy Lecithin, Potassium Chloride, Magnesium Chloride, Ferrous Sulfate, Choline Bitartrate, Choline Chloride, Ascorbyl Palmitate, Sodium Chloride, Taurine, M-Inositol, Zinc Sulfate, Mixed Tocopherols, D-Alpha-Tocopheryl Acetate, Niacinamide, Calcium Pantothenate, L-Carnitine, Vitamin A Palmitate, Cupric Sulfate, Thiamine Chloride Hydrochloride, Riboflavin, Pyridoxine Hydrochloride, Folic Acid, Manganese Sulfate, Phylloquinone, Biotin, Sodium Selenate, Vitamin D3, Cyanocobalamin, Calcium Phosphate, Potassium Phosphate, Potassium Hydroxide and Nucleotides (Adenosine 5'-Monophosphate, Cytidine 5'-Monophosphate, Disodium Guanosine 5'-Monophosphate, Disodium Uridine 5'-Monophosphate).
Use as directed by a doctor. Directions for Preparation and Use: Your baby's health depends on carefully following these easy directions. Proper hygiene, handling, and storage are important when preparing infant formula. Failure to follow these directions could result in severe harm. Powdered infant formulas are not sterile and should not be fed to premature infants or infants who might have immune problems unless directed and supervised by your baby's doctor. Consult your baby's doctor about the formula appropriate for your baby; the need to use cooled, boiled water for mixing; and the need to boil utensils, bottles and nipples in water before use. Wash your hands, surfaces and utensils. Pour desired amount of water into clean bottle (see chart). Add 1 unpacked level scoop (8.7 g) to each 2 fl oz of water; return dry scoop to holder in lid. Cap bottle; shake well; attach nipple. Once feeding begins, use within 1 hour or discard. To Make Approx. 2-fl-oz Bottle: 2 fl oz water, 1 unpacked level scoop (8.7 g) powder; To Make Approx. 4-fl-oz Bottle: 4 fl oz water, 2 unpacked level scoop powder; To Make Approx. 6-fl-oz Bottle: 6 fl oz water, 3 unpacked level scoop powder; To Make Approx 8-fl-oz Bottle: 8 fl oz water, 4 unpacked level scoop powder. Use enclosed scoop to measure. To make a larger amount of formula using a standard measuring cup, add 1 unpacked, level cup (Not the enclosed scoop) of powder (100 g) to 23 fl oz of water. Yields approximately 26 fl oz of formula. To maintain freshness, pour prepared formula into individual feeding bottles, cap and store in refrigerator. Prepared formula should not be left unrefrigerated; use within 24 hours. When mixed as directed, the contents of this container will make approximately 168 fl oz of formula. 1 Container = 28 Bottles. Storage: Immediately store prepared individual feeding bottles in refrigerator at 35-40 degrees F (2-4 degrees C) and use within 24 hours. Store unopened containers at room temperature; avoid extreme temperatures. Close opened container and store in a cool, dry area (not in refrigerator). Use opened container contents within 1 month. Do not reuse container.
Contains milk and soy ingredients. Never use a microwave oven to warm formula. Serious burns can result. Do not use if outer quality seal or inner foil seal is missing or broken.