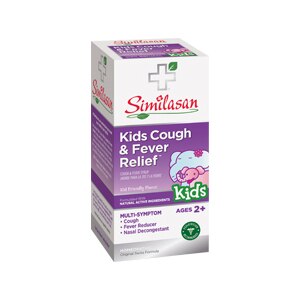 Similasan 100% Natural Cough Relief Liquid
Homeopathic. Soothes & comforts. Dry/hacking cough. Hoarse throat. Dye free. Naturally sweet. Original Swiss formula. At Similasan, we understand you want your child to feel better. We created Similasan Kids Cough Relief syrup to stimulate the body's natural ability to relieve the symptoms of a dry, hacking cough. Kids Cough Relief soothes the cough reflex in the throat and lungs so mucus or irritations no longer triggers coughing. 100% natural active ingredients. Sugar free. Alcohol free. Dye free. Chemical free. No artificial flavoring. Safe for diabetics. For over 25 years, our Original Swiss Formulas - made with 100% natural active ingredients - have been providing families with remedies that are naturally effective and safe and have no known side effects or drug interactions. Active ingredients are microdiluted in accordance with the Homeopathic Pharmacopoeia of the United States, and are therefore non-toxic and have no known side effects. Made in Switzerland.
Active Ingredients: Belladonna (Containing 0.0000000016% Alkaloids Calculated as Hyoscyamine) (6X), Drosera (3X), Laurocerasus (2X), Rumex Crispus (4X), Senega Officinalis (6X), Verbascum Thapsus (6X). Inactive Ingredients: Purified water, Sorbitol, Sodium Chloride, Potassium Sorbate, Citric Acid.
Repeat 3 to 6 times daily (every 4 hours) or as directed by a licensed health care professional Age 2-12: 1/2 tsp (2.5 ml). Age 12+: 1 tsp (5 ml).
Consult a physician before use if pregnant or breast feeding. Consult a physician if symptoms persist for more than 7 days or worsen. Keep this and all medications out of the reach of children. Do not use if tamper-evident seal is broken. In case of accidental overdose, get medical help or contact a Poison Control Center immediately. Do not exceed recommended dosage.