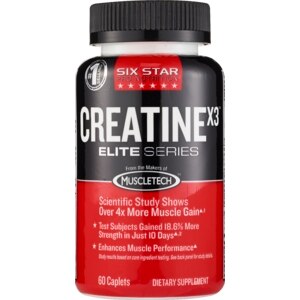 Six Star Pro Nutrition Professional Strength Creatine x3 Elite Series Caplets
Dietary supplement. From the makers of MuscleTech Research and Development. From the makers of America's No. 1 selling body building supplement brands (MuscleTech is America's No. 1 selling body building brand based on cumulative wholesale dollar sales 2006-present). Scientific study shows over 4x more muscle gain (In a third-party, 12-week study involving 22 untrained test subjects divided into 3 groups and conducted at an American university, subjects taking the same form of creatine found in Professional Strength Creatine x3 with a weight-training program gained over 4 times more lean muscle than subjects using a placebo [7.12 vs. 1.30 lb]). Test subjects gained 18.6% more strength in just 10 days (In a 10-day study conducted at Ohio State University on 31 weight-trained test subjects randomly assigned to one of three groups, subjects consuming the same form of creatine found in professional strength Creatine x3 pill with a training program increased their strength capacity on the bench press by 18.6% compared to baseline [6,658 vs. 5,613 joules]. Testing was performed using 70% of the subjects' one-rep max bench press. Repetitions were counted to the one-half repetition and the results were multiplied by force exerted and distance traveled and then converted to joules). Enhanced muscle performance. Study results based on core ingredient testing. Scientific: Based on University Research. Effective: Builds muscle and strength. Easy-to-use: Take after workout. Who is Professional Strength Creatine X3 for? Strength athletes; men and women who want to support their fitness goals; body builders; recreational weight trainers. What benefits does it provide? Cutting-edge creatine pill formulation. Builds muscle and strength. Provides cellular energy to working muscles. Improve recovery between sets and enhances muscle performance.Enhanced Muscle Performance: Professional Strength Creatine X3 pill is formulated with a powerful dose of creatine that helps generate ATP, a critical source of muscle energy, for improved recovery time between sets, enhanced strength and increased lean muscle mass. (These statements have not been evaluated by the Food and Drug Administration. This product is not intended to diagnose, treat, cure or prevent any disease.) Made in the USA from international and domestic ingredients.
Ship & Save:

Ship & Save Eligible
Creatine X3 Blend: Creatine Monohydrate, Creatine Phosphate, Creatine Pyruvate. Alpha Amino 1: Alpha Lipoic Acid, L-Carnosine (Beta-Alanine and Histidine Dipeptide). Other Ingredients: Microcrystalline Cellulose, Hydroxypropylcellulose, Coating (Polyethylene Glycol, FD&C Blue 2, Talc, FD&C Yellow 6, FD&C Red 40, Hydroxypropyl Cellulose, Titanium Dioxide, Soy Lecithin, Polysorbate 80), Croscarmellose Sodium, Stearic Acid, Silica, Magnesium Stearate, Acesulfame-Potassium.
Nutrition Facts
Serving Size: 3caplutes
Servings Per Container: 20
Variation:
| Nutrient | Amount per Serving | % Daily Value |
| --- | --- | --- |
| Creatine X3 Blend | 3031mg | |
Take 1 serving (3 caplets) of professional strength Creatine X3 two times per day. On days when you work out, take 2 servings immediately after your workout. On days you do not work out, take 2 servings in the morning. Consume 10 glasses of water daily to enhance creatine absorption and for general good health.
Contains soy ingredients. Not intended for use by persons under 18. Do not use if you are pregnant or nursing. If you experience a skin rash or any other allergic reaction, discontinue use and consult a medical doctor. Discontinue use and call a medical doctor if you experience unusual symptoms. Consult a medical doctor before use if you have been treated for, or diagnosed with or have a family history of any medical condition or if you are using any prescription or over-the-counter drug(s), including blood thinners. Consult a medical doctor before starting a diet or exercise program. Do not exceed recommended serving. Improper use of this product will not improve results and is not advised. Use only as directed. Do not use if packaging has been tampered with. Store in a cool, dry place (60 degrees F to 80 degrees F). Keep out of reach of children.