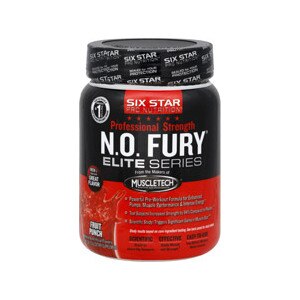 Six Star Pro Nutrition Professional Strength N.O. Fury Elite Series Fruit Punch
Dietary Supplement. Natural and artificial flavors. From the makers of America's No. 1 selling body building supplement brand (MuscleTech is America's No. 1 selling body building brand based on cumulative wholesale dollar sales 2006-present). From the makers of MuslceTech Research and Development. Great flavor. Powerful pre-workout formula for enhanced pumps, muscle performance & intense energy. Test subjects increased strength by 94% compared to placebo. Scientific Study: Triggers significant gains in muscle size. Study results based on core ingredient testing. Scientific: Based on university research. Scientific: Based on university research. Effective: Builds muscle and strength. Easy-to-Use: Take before workout. Mixes instantly. Who is Professional Strength N.O. Fury for? Strength athletes. Recreational weight trainers. Body builders. What benefits does it provide? All-in-one pre-workout formula for better workouts. Delivers an advanced compound to help build muscle and increase ATP resynthesis for greater muscle performance. Another key ingredient provides enhanced energy for increased intensity. Provides nitric oxide boosting arginine and enhances pumps. Powerful Pre-Workout Formula for Enhanced Pumps, Muscle Performance & Intense Energy: Professional Strength N.O. Fury was scientifically engineered the Six Star Nutrition team as an all-in-one, pre-workout formula. It's powered by key ingredients that rapidly deliver increased muscle pumps and elevated energy levels for amplified intensity while you train. Test Subjects Increased Strength by 94% Compared to Placebo: In a third-party, 12-week study involving 22 untrained test subjects divided into 3 groups and conducted at an American University, subjects taking a key ingredient in Professional Strength N.O. Fury combined with a weight-training program, increased their strength on the leg press by an average of 94% more than those taking a placebo (375 vs. 193 lbs). Scientific Study: Triggers Significant Gains in Muscle Size: In the 12-week study outlined above, test subjects using the same advanced musclebuilding compound also gained significantly more muscle than subjects using a placebo. The powerful combination of nitric oxide boosting arginine, plus an energy and intensity catalyst, plus a musclebuilding compound delivers the most extreme workouts of your life. Try Professional Strength N.O. Fury today - and never train without it again! (These statements have not been evaluated by the Food and Drug Administration. This product is not intended to diagnose, treat, cure or prevent any disease). Made in the USA from international and domestic ingredients.
N.O. Fury Blend: VasoForce (L-Arginine, Taurine, L-Arginine Alpha Ketoglutarate, L-Arginine HCl, L-Citrulline), Growth Streak (Creatine Monohydrate, Creatine Phosphate), Energy Strike (Glycine, Caffeine Anhydrous). Other Ingredients: Maltodextrin, Citric Acid, Sodium Citrate, Calcium Silicate, Natural and Artificial Flavors, Sucralose, Acesulfame-Potassium, FD&C Red 40 Lake, FD&C Red 40, FD&C Blue 2.
Nutrition Facts
Serving Size: 1 scoop
Servings Per Container: 30
Variation:
| Nutrient | Amount per Serving | % Daily Value |
| --- | --- | --- |
| Calories | 70 | |
| Sodium | 60 mg | 3 % |
| Total Carbohydrate | 12 g | 4 % |
| Sugars | 1 g | |
| Calcium | 25 mg | 3 % |
| Flavor | | |
| ServingSize-InGrams | 18 g | |
| N.O. Fury Proprietary Blend | 5300 mg | |
| N.O. Fury Serving Dose | 18000 mg | |
How to Take N.O. Fury: Stir: Simply stir in a glass of water. Or Shake: Cover and shake until well mixed. Warning: Never exceed recommended dosage. Read the entire directions before consuming and follow the tolerance protocol. Start by assessing your tolerance first by mixing 1 serving (1 scoop) with 4 to 8 oz of cold water and drink about 30 minutes before your daily workout. Then increase the dosage to 2 and then 3 servings mixed with 8 to 12 oz of cold water before your daily workout. Do not exceed 3 servings (3 scoops) in a 24-hour period. Drink 8-10 glasses of water daily for general good health. Read the entire label before use and follow directions provided.
Not intended for use by persons under 18. Do not use if pregnant or nursing. Do not use if you have had a myocardial infarction (heart attack). Inhalation may amplify the inflammatory airway response in people with asthma. Discontinue use and consult a medical doctor if you experience unusual symptoms. Consult a medical doctor before use if you have been treated for or diagnosed with or have a family history of any medical condition or if you are using any prescription or over-the-counter drug(s), including blood thinners. One serving (1 scoop) of this product contains up to as much caffeine as one and a half cups of coffee (135 mg). Caffeine sensitive individuals may experience the following symptoms including (but not limited to) restlessness nervousness, tremors, headache, anxiety palpitations, increased heart rate or difficulty sleeping. Consult a medical doctor before starting a diet or exercise program. Do not exceed recommended serving. Improper use of this product will not improve results and is not advised. Use only as directed. Do not refrigerate. Do not use if packaging has been tampered with. Store in a cool, dry place (60 degrees F to 80 degrees F). Keep out of reach of children. Sealed for your protection.