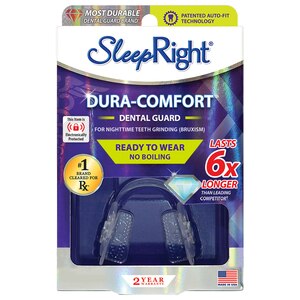 SleepRight Dura-Comfort Dental Guard
Compare & Save
with CVS Pharmacy Brands
Size: 2 CT
(8)

$37.99

($37.99 / ea.)
Our strongest teeth grinding protection. Protects teeth & dental work from clenching & grinding. Ready to use. No boiling water and biting hot plastic required for fitting compared to most guards. Patented self-adjustable bite pads for a custom fit. Bite pads automatically swivel to match your bite and adjust to fit all jaw sizes. Stability wings provide extra safety. Comfort band conforms to mouth using body temperature for comfort (patented feature). #1 retail brand cleared for Rx. Best quality & value. No BPA, latex, silicone or phthalates. Non-leaching & non-toxic. Designed by a dental specialist. 20 years of clinical use. Contains 1 dental guard, 1 storage case and instructions. www.sleepright.com. Made in USA.
This item is FSA (Flexible Spending Account) eligible.
Product Type:

Mouth Guards

Specialties:

BPA Free

Quantity:

1-10 CT
Do not use any dental product without first consulting your dentist. Do not use if you are under 18 years of age. Persons under the age of 18 must consult a doctor before use. Do not use if you have TMJ; have teeth or jaw pain; or if the dental guard or any part of the device is broken or damaged. Do not use as an athletic mouth guard. Before using this product, carefully read and understand all directions. Using this product other than directed may cause breakage or serious injury. Do not use for more than 12 hours in a 24 hour period. Not for use with dentures, braces or other dental appliances. Do not use for more than 3 months from initial use without consulting your dentist. Ask a dentist before use if you have loose fillings, loose teeth, chipped or broken teeth, loose caps or unfilled cavities; jaw clicking or pain, teeth pain, face pain; difficulty chewing; mouth sores; gum disease or bleeding gums; or serious respiratory problems. While using this product, see your dentist at least every 6 months. Stop use and see a dentist if you develop loose teeth or a change in your bite; experience pain or other irregularity. Stop use if it easily falls out of your mouth or causes you to gag or choke, or if you are prone to swallowing the product; you develop bleeding gums, soreness or other reaction inside your mouth. As with all intra-oral devices, there are inherent risk factors associated with using them. You should proceed with extreme caution while using this product and regularly examine it, before and after each use, for any defect that may present a potential health hazard. Although uncommon, the user may gag, choke or swallow a part from this product.