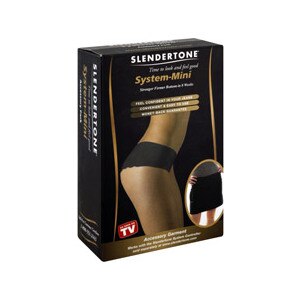 Slendertone System-Mini Accessory Garment Large
System skirt
Fits hip sizes: S = 24 - 38 in; M = 36 - 45 in; L = 40 - 48 in. 4 adhesive pads (Pads will need to be replaced periodically). Instruction literature. Time to look and feel good. Stronger firmer bottom in 8 weeks.
Feel confident in your jeans. Convenient & easy to use. As seen on TV. Works with the Slendertone system controller sold separately.
System-Mini from Slendertone. System from Slendertone is the future in body toning and wellness, giving you the body shape you desire. This revolutionary new concept allows the same hand-held controller to be attached to a range of garments that tone different areas of the body, saving you money on your next Slendertone garment purchase.
Welcome to System-Mini from Slendertone. Ideal for individuals who want to firm and tone the bottom. System-Mini from Slendertone provides a convenient toning solution and easily fits into your daily routine. System-Mini from Slendertone is for use with your existing interchangeable System from Slendertone hand-held controller (sold separately). Add this wrap-around skirt to your System from Slendertone collection for the easiest way to lift, shape and firm your bottom, giving you the body shape you desire.
System-Mini from Slendertone uses a unique patented technology called CSI, that allows you to exercise all of the muscles in the target area, not just the muscles under the pads. A signal is sent to the nerves which in turn contract all of the bottom muscles.
This clinically demonstrated technology can help you achieve firmed and toned bottom muscles in just 8 weeks.
Storage:
Temperature:
0 - 55C.
Humidity:
10 - 90% RH.