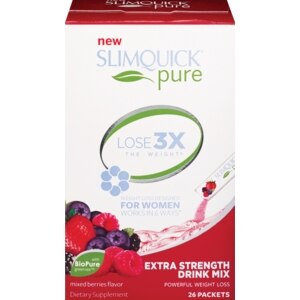 SlimQuick Weight Loss Powder Packets Mixed Berries
Dietary Supplement. Natural & artificial flavors. No. 1 selling weight-loss brand for women (Based on IRI F/D/Mx sales for SlimQuick Brand latest 52 wks ending Dec. 26/10). Designed for women. Metabolism. Stress. Appetite. Hormones. Energy. Water. 6 ways women lose weight. Incredible flavor. Lose up to 24 lbs (In a multi-centered randomized clinical study, women consuming a key component in the SlimQuick formula twice daily lost an average of 24.6 lbs vs. 8.1 lbs with diet alone in 90 days! Both groups consumed a reduced calorie diet of 1350 calories per day). Designed specifically for women. Since 2005, SlimQuick has sold more than 10 million bottles of their powerful weight-loss formulas! Why? Because it works, fast! SlimQuick is the leader in female weight loss because it's designed specifically for a woman's body and is scientifically formulated to overcome the 6 physiological barriers women face when losing weight. SlimQuick Helps: Increase metabolism; Reduce appetite; Boost energy; Reduce excess water; Support hormones; Reduce stress. Lose up to 25 pounds fast! I've reviewed the clinical research, and I highly recommend SlimQuick for women looking to lose weight fast! - Dr. Di Pierro, PhD. (When used as directed as part of your diet and exercise program.) (These statements have not been evaluated by the Food and Drug Administration. This product is not intended to diagnose, treat, cure or prevent any disease.) Manufactured in the United States from foreign and domestic ingredients.
Ship & Save:

Ship & Save Eligible
SlimQuick 6 Ways Complex: Green Tea Extract (Camellia Sinensis) (Leaf), Polyphenols (95%), Catechins (70%), EGCG (45%), Caffeine (Anhydrous), Green Tea Phytosome, Phosphatidylcholine (from Soy), Green Tea Extract (Camellia Sinensis) (Leaf), Rhodiola Extract (Rhodiola Rosea) (Root) [3% Rosavins], Chaste Tree Extract (Vitex Agnus-Castus) (Fruit), Soy Extract (Glycine Max) (Seed) [4% Isoflavones], Brown Seaweed (Undaria Pinnatifida) (Whole Plant) [Contains Fucoxanthin], Uva-Ursi (Arctostaphylos Uva-Ursi) (Leaf), Japanese Knotweed Extract (Polygonum Cuspidatum) (Aerial Stems) [50% Resveratrol], Phytosterols (Glycine Max)(Seed) [40% Beta-Sitosterol], L-Theanine. Other Ingredients: Maltodextrin, Natural and Artificial Flavor, Citric Acid, Cane Juice Crystals, Malic Acid, Aspartame, Acesulfame Potassium, Monoglycerides, Diglycerides, Sucralose, Red 40, Blue 1.
Nutrition Facts
Serving Size: 1packet
Servings Per Container: 26
Variation:
| Nutrient | Amount per Serving | % Daily Value |
| --- | --- | --- |
| Calories | 0 | |
| Flavor | | |
| Vitamin B6 (as Pyridoxine Hydrochloride) | 2mg | 100 % |
| Vitamin B12 (as Cyanocobalamin) | 6mcg | 100 % |
| Vitamin D (as Cholecalciferol) | 100IU | 25 % |
| Folate (as Folic Acid) | 100mcg | 25 % |
| Vitamin K (as Phytonadione) | 20mcg | 25 % |
| Calcium (as Calcium Lactate) | 75mg | 8 % |
| Soy | | |
| SlimQuick 6 Ways Complex | 369mg | |
Slowly pour 1 powder packet (3.2 g) into 16.9 oz. (500 ml) of | cold water and stir until dissolved. If adding to a full bottle of water, take a few sips prior to adding contents, close and shake. Refer to the dosing chart below. Take with food. For the first week take one serving in the morning and one serving in the afternoon. For the second week, take two servings in the morning and one serving in the afternoon. Week three onward consume two servings in the morning and two servings in the afternoon. Do not exceed 4 servings in a 24-hour period. SlimQuick should be used in conjunction with a reduced-calorie diet and regular exercise program (refer to insert included). Do not take SlimQuick within 5 hours of bedtime. Read the entire label before use and follow directions. Week 1: 1 serving in morning, 1 serving in afternoon. Wee 2: 2 servings in morning, 1 serving in afternoon. Week 3 and Onward: 2 servings in morning, 2 servings in afternoon.
Contains soy. Phenylketonurics: Contains aspartame. Keep out of reach of children. Do not use if you are pregnant or nursing, contemplating becoming pregnant or have a known allergy to any ingredient in this product. Not intended for use by persons under 18. Consult a physician before using this product if you have been treated for or diagnosed with, or have a family history of any medical condition including, but not limited to, diabetes, anxiety disorders, glaucoma, cardiac conditions, osteoporosis, thyroid disease or hypertension, and liver or kidney disorders or if you are taking monoamine oxidase (MAO) inhibitors, blood thinners such as warfarin, diuretic medications, blood glucose modifiers, tamoxifen or any prescription drug or over-the-counter medication. One serving of this product contains the amount of caffeine equivalent to 1 cup of coffee. Limit use with other caffeine-containing sources such as coffee, tea or energy drinks. Discontinue use and immediately inform a physician if you experience chest pain, dizziness, headache, irregular heartbeat, nausea, abdominal pain, dark urine, jaundice or other comparable symptoms. Consult a physician for use beyond 16 consecutive weeks. Use only as directed. Do not exceed recommended serving, as improper use of this product does not enhance results. Do not use if inner safety seal has been broken. Store in a cool dry place.