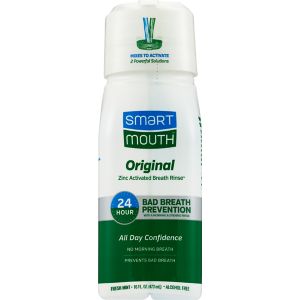 Smart Mouth 12 Hour Fresh Breath Mouthwash, Clean Mint
Rinse with SmartMouth in the morning, fresh breath all day. Rinse at night and wake up without bad breath.                                                                                                  
"Clinically proven to prevent bad breath for 12 hours with each rinse
"No More Morning Breath
How does SmartMouth work? Just rinse twice a day for all day fresh breath. Rinse in the morning and have fresh breath all day, rinse at night and wake up without dreaded morning breath. SmartMouth is the only mouthwash that uses a patented zinc-ion technology to not only freshen your breath at the time of use, but to keep bad breath from coming back for 12 hours with each rinse. The unique two-solution formula means that you activate SmartMouth each time you pour it, giving you maximum strength and freshness every time you swish.

"Will not stain teeth, dentures or crowns
"Dentist recommended
"100% alcohol-free no burning
"Safe for ages 6 and older
"Safe for diabetics

SmartMouth begins working immediately, giving you fresh breath the very first time you use it. For maximum results, use SmartMouth Mouthwash every day, as directed, and you can even wake up with fresh breath. Rinse in the morning and get all day fresh breath. Rinse at night for no more morning breath! Now that's real confidence in a bottle!
Product Type:

Mouthwash

Specialties:

Alcohol Free

Formulation:

Liquid

Quantity:

16-20 OZ

Primary Flavor:

Mint

Lifestage:

Adult, Child, Senior
Solution 1: Purified Water, Sodium Benzoate, Sodium Chlorite, and Benzoic Acid. Solution 2: Purified Water, Glycerin, Poloxamer 407, Propylene Glycol, Poloxamer 124, Zinc Chloride, Flavor, Sodium Benzoate, Benzoic Acid, Sodium Saccharin, Sodium Chloride, Benzyl Alcohol, D&C Yellow 10, FD&C Blue 1.
The power of SmartMouth is in the ACTIVATION. Pour the two solutions together to activate the Smart-Zinc, which eliminates and prevents bad breath for at least 12 hours with each rinse. Getting Started: Keep bottle upright. Do not squeeze. Spout should face front of bottle. Peel along perforation. Temporarilly lift off cap and spout. Remove foil and green seal (remove any residual clear film). Replace cap and spout, snap closed left to right. Just Tilt & Pour: Remove rinsing cap. Tilt forward, pour to line on cap. Rinse for 30 seconds, gargle and spit out. Replace cap. For adults and children 6 and older. For 24 hour fresh breath, rinse 2x daily after brushing and flossing. Use immediately after pouring to ensure dual formula activation. With regular, twice-daily rinsing, you should experience maximum effectiveness within 1-2 weeks. Re-rinsing is recommended after eating foods containing onion or garlic. Please Note: SmartMouth is designed to be poured in the forward direction only. To avoid leakage, keep bottle upright and do not squeeze. If spilled on fabric, wash out immediately. Do not use this product if the tamper-evident foil seal is missing or broken. Keep out of reach children.