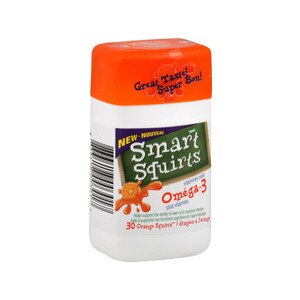 Smart Squirts Omega-3 Plus Vitamins Orange Squirts
Great taste! Helps support the ability to learn and cognitive function. Two Squirts offer the same amount of fish oil found in 6 oz of wild salmon.
Medicinal Ingredients: Each Squirt (Chewable Capsule) Contains: Fish Oil (EPA 54 mg, DHA 37 mg) (211 mg), Evening Primrose (Source: Oenothera Biennis L.) (Seed Oil) (66 mg), Vitamin E (8 IU), Vitamin A (1332 IU), Vitamin D3 (Cholecalciferol Oil) (100 IU). Non-Medicinal: Mannitol, Glycerin, Gelatin, Vegetable Fat, Purified Water, Potato Starch, Lecithin, Palm Oil, Orange Flavor, Lemon Flavor, Aspartame, Sodium Saccharin, Titanium Dioxide, Yellow Iron Oxide, Curcumin, Gelatin.
Children 5-12 Years: Chew 2 squirts per day. Ages 12 and Over: Chew 5 squirts per day. Take with food. Store in a cool dry place.
Do not exceed the stated intake. This supplement should not be used as a substitute for a varied diet. Excessive consumption may produce laxative effects. This product contains traces of nuts. Contains a source of phenylalanine. Do not purchase if seal is broken.