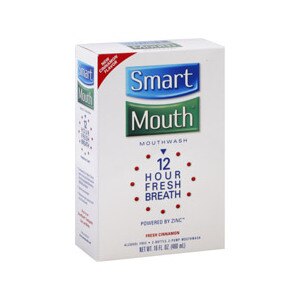 Smartmouth Mouthwash Fresh Cinnamon
12 hour fresh breath. Powered by zinc. 2-bottle, 2-pump mouthwash. Safe for diabetics. Will not stain teeth, fillings, or dentures. Indications: SmartMouth Mouthwash eliminates and prevents bad breath for 12 hours after each rinse. Rinse in the morning for fresh breath all day - rinse at night and wake up with fresh breath. Effective for both common and chronic bad breath. Developed by Dr. Marvin Cohen, author of the bad breath section of the Encyclopedia Britannica, 1998 Medical Edition. Dentist recommended. SmartMouth Mouthwash contains two active ingredients that must be mixed just before rinsing to provide the maximum release of zinc ions. Alcohol free. Made in USA.
Solution 1: Purified Water, Sodium Benzoate, Sodium Chlorite, and Benzoic Acid. Solution 2: Purified Water, Glycerin, Poloxamer 407, Propylene Glycol, Poloxamer 124, Zinc Chloride, Flavor, Sodium Benzoate, Benzoic Acid, Sodium Saccharin, Sodium Chloride, Benzyl Alcohol, FD&C Red 40.
For adults and children 6 years and older. For best results, rinse twice daily after brushing and flossing. Solutions 1 and 2 must be mixed together immediately before each rinse. Remove caps and tamper-evident seals from both bottles. Insert pumps into bottles and turn counterclockwise to unlock. Pump 4 times from each bottle (equal amounts) into enclosed mixing cup. Immediately and vigorously rinse for 30-60 seconds, gargle, and spit out. With regular, twice-daily rinsing, you should experience maximum effectiveness within 1-2 weeks. Re-rinsing is recommended after eating foods containing onion or garlic. Although SmartMouth Mouthwash is completely safe, do not swallow. Store at room temperature. Important Note: Initial use of SmartMouth Mouthwash may create a brief dry sensation or temporary change in taste perception. If this persists, reduce the amount of SmartMouth Mouthwash used and/or reduce the rinsing time.
Do not use this product if the tamper-evident seal is loose, missing, or broken. The bottles must remain upright or the pumps may leak, which may cause staining or bleaching of clothing.