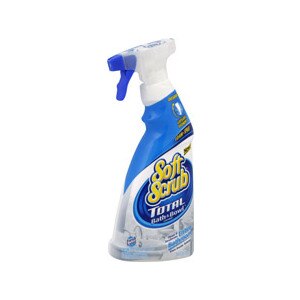 Soft Scrub Total Bath & Bowl Fresh Scent
Works upside down! Foam or spray. Cleans & deodorizes entire bathroom. Even inside toilets! Foam (Closed screen): For heavier cleaning or more focused surface areas. Spray (Open screen): Aerosol. For lighter spot cleaning or larger surface areas. Great for soap scum, calcium & lime scale. Made in USA.
1. Choose spray or foam. 2. Spray 6-8 inches from surface. 3. Wipe thoroughly with a clean, damp cloth or sponge. 4. For heavily soiled areas, let product stand several minutes, wipe and rinse with water (if needed). 5. Rotate nozzle to stop position after use. Inside Bowl: Set to foam, invert bottle, spray sides/under rim of toilet bowl. Let stand several minutes, brush and flush. Uses: Sinks, bathtubs, shower tiles/doors, toilet bowls, glass, chrome, faucets and fixtures. For other surfaces, spot test in an inconspicuous area. Not recommended for use on natural stone, aluminum, colored grout, copper and brass. Avoid contact with wood, fabric, vinyl, painted surfaces and wallpaper.
Irritant. Causes eye irritation. Contains lactic acid. Avoid contact with eyes. Do not ingest. Avoid breathing spray mist and use only in well ventilated areas. First Aid: Eyes: Rinse slowly and gently with water for 15-20 minutes. Skin: Flush with water. Call doctor if irritation persists from eye or skin contact. Do not mix with chlorine bleach or other household chemicals, as hazardous gases may be released.