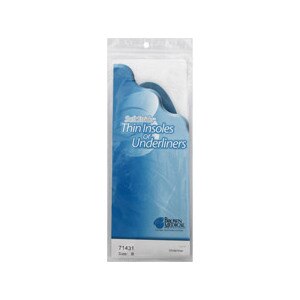 Soft Stride Underliner Size B
Underliners: Will not bottom out with weight or frequent impact; relieve pain associated with degenerative fat pads; provide comfort for walking and working on hard surfaces. Underliners are made from viscoelastic polymer with qualities of soft body tissue. This unique polymer provides redistribution of pressure beneath foot and attenuates impact of heel strike. Underliners Size B: Women (6-7); EUR (37-38.5). This product for single patient use. CE listed. ISO 9001 Certified system. Made in USA.
Underliners have natural gripping bottom surface that holds pad in place once positioned in shoe. May be trimmed with scissors to provide better fit. Care and Cleaning: Soft Stride products may be cleaned by removing from shoe and hand washing in warm soapy water. Do not use solvents, harsh cleansing agents or bleach. Rinse and air dry completely.