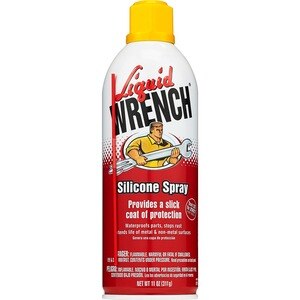 Solder Seal Gunk Heavy-Duty Liquid Wrench Silicone Spray
Lubricant. Waterproofs, rust-proofs, & lubricates. High dielectric strength. For rubber, wood, plastic, vinyl & metal. Made in USA.
Petroleum Distillates (8052-41-3/64742-46-7), Naphthenic Oil (64742-52-5), Silicone (63148-62-9), 2-Butoxy Ethanol (111-76-2), Carbon Dioxide (124-38-9).
Spray surfaces lightly. For small area applications, apply silicone to a clean cloth and wipe are to be lubricated. Remove any overspray from floors to avoid slips or falls. Storage, Handling & Disposal: Do not expose to heat, sparks, open flames. Store in a cool dry area below 120 degrees F / 49 degrees C. Do not puncture, crush or incinerate can. Dispose of product, container and residue according to local, state, federal laws and regulations.
Danger: Flammable. Fire and explosion hazard: Use only in well ventilated area away from heat, sparks, and flame. Do not place container in contact with hot surfaces, batteries or electrical current, because of risk of violent bursting and flash fire. Use added caution in confined areas such as basements and automobile compartments. Breathing & Ingestion Hazards: Inhaling concentrated vapors, intentionally or otherwise may cause death without warning. Harmful or fatal if swallowed. Do not take internally. Contact Hazard: Avoid contact with eyes. Prolonged skin contact may cause dermatitis. Warning: This product contains a chemical known to the State of California to cause cancer or birth defects or other reproductive harm. Keep away from children and animals. Danger: Do not swallow. Use only as directed. Fire and explosion hazard. Breathing hazard. First Aid: Eye Contact; Flush thoroughly with water for 15 minutes while lifting eyelids and get prompt medical attention. Skin Contact; Wash with soap and water. If irritation persists, get prompt medical attention. Inhalation; Move to fresh air. If breathing becomes difficult, get prompt medical attention. Ingestion: Do no induce vomiting. Call Poison Control Center, Physician, or Hospital Emergency Room immediately.