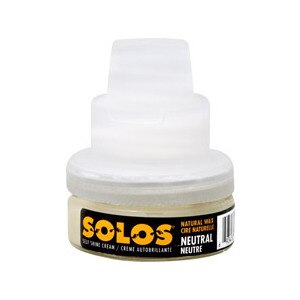 Solos Self Shine Cream Natural Wax Neutral
Outstanding Self Shine Cream, Natural waxes that nourish your favourite pair of leather shoes, making them last longer and look better. For all of your multicolored shoes or where white stitching is present. Simply apply and walk. No Buffing required.
Wipe excess dirt from the shoes. Using the applicator spread the cream evenly over entire surface of the shoe, dries in less than 60 seconds. To keep applicator soft, rinse with warm water after use. Washes off hands with soap and water. DO NOT USE ON SUEDE OR NUBUCK.
Keep out of reach of children.